Ultra thin breathable day time used maxi size lady sanitary pads with ions distributor
Description du produit
Ultra thin breathable day time used maxi size lady sanitary pads with ions distributor   Product Description  
 

chip 

 

Cover material

 

Back sheet

 

Absorption

 

Length

 

Scent

 

Pcs/pack

 

MOQ

 anion   green   /blue   chip /bamboo charcoal /F.I.R

 

bamboo fibre/non woven/ 100% cotton/net / organic cotton for options

 

Breathable/ can be printed 

 

50-120ml

 

220-260 mm

 

Aloevera/jasmin/

chamomile/rosemary

/menthal/fruit/herbs

/customized

 

 

     10

 

 

10000 packs
Product
Features   
(1) Ultra thin (1-2mm thick)
(2) Super soft and perforated non woven top sheet, the softest touch to women skin, and the quickest penetration from top to bottom
(3) More than 6000/cm3 dynamic negative ions PLUS far infrared ray generated by Anion green chip technologically and effectively inhibit the survival and duplication of virus and bacteria as  "bacteria killer".
(4) Japanese SAP makes the pad super absorbent and locks menstruation flow in ONE second, 2-3 times more absorption than normal pads' in the market.
(5) Great breathability of back sheet effectively helps prevent moisture and odor.
(6) Perfect body fit design and strong adhesive keep the pad firmly stay on the panty all the time.
Product
Specification   
* Brand Name: Glory Girl , Oui Oui, private label/OEM acceptable
* Size:  Day time use 230-260mm, Overnight use 280mm-410mm, Panty liner 150mm
* Surface: Super soft and perforated non woven
* Color of pad: White
* Back sheet: Breathable
* Package: Zip lock bag, Deluxe aluminum bag, Paper box, Normal PE bag
* Packing: 10/20 pads X 48 bags per carton
* MOQ: 300,000 pads for sanitary napkin, 600,000 pads for panty liner
* Individual wrap: PE/ non woven 
Product
Images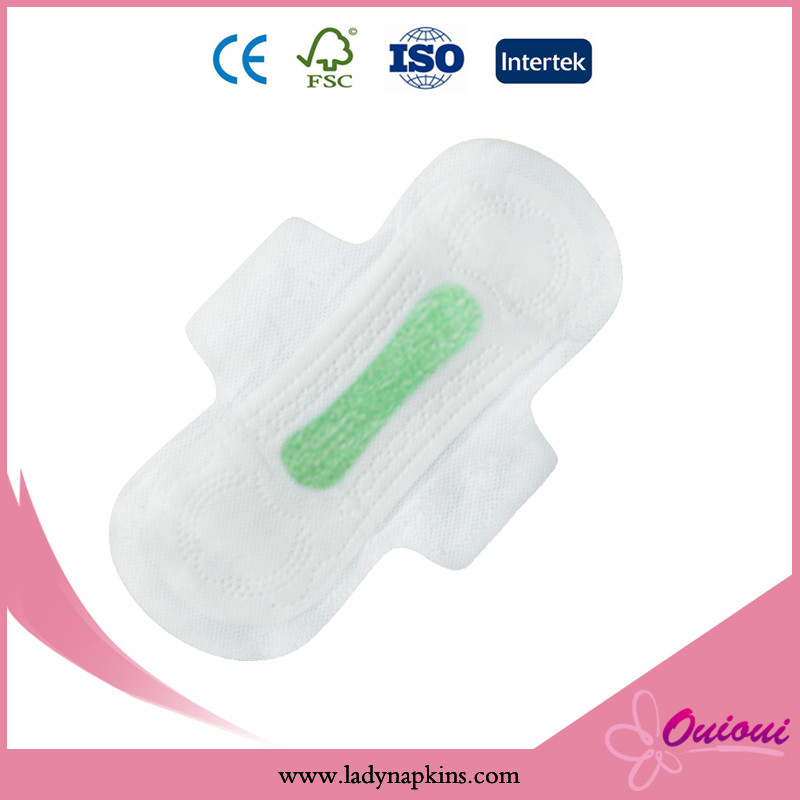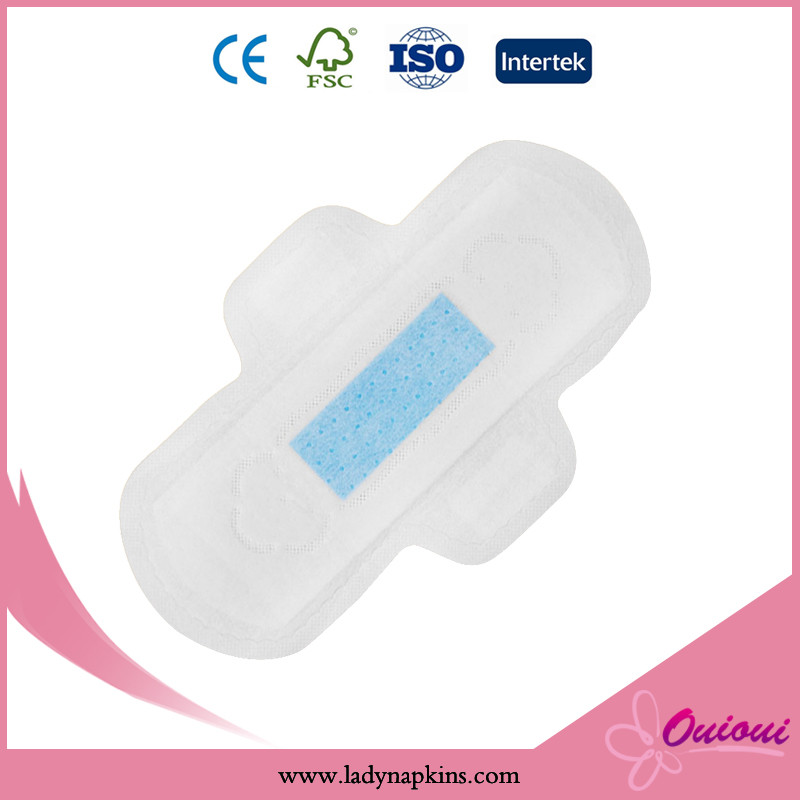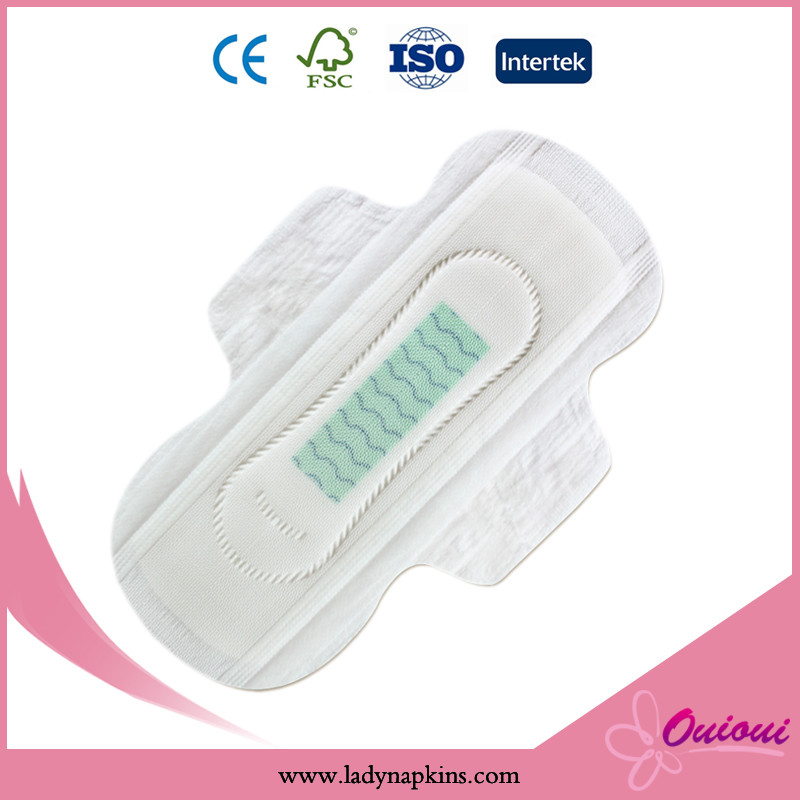 Ultra thin breathable day time used maxi size lady sanitary pads with ions distributor Products Features
 Unique organic cotton cover 
 Cleanest,most healthy,compeletely safe ,super comfortable organic cotton is the revelution for sanitary pads, and really gives women a lot benifets. it reduces a lot of chances for women to get vagina disease.  
Construction of the pad:
Even ultra thin , but still effective absoption, it has 7 layers for extra protection:
First layer-organic cotton, silk feeling , comfortable touching , no friction.
Second layer-anion /bamboo charcoal chip 
Third layer- airlaid 
Fourth  layer-fluff with sap
Fifth  layer- brinted breathable back sheet 
Sixth layer- release paper with breathable glue
Seven layer-food grade PE wrapper with sticker , extra protection , easy to open.  
Great Breathability 
Both breathable and hypoallergenic cottony top sheet and waterproof breathable backsheet enhance expelling the dampness,which can keep fresh and comfortable all the time even in hot summer. With nano micro holes at the back sheet , the hot air and odor can come out , but no water leakage.  
 anion chip/bamboo charcoal/far infrared/silver ion chip can be embossed
This pad is embossed the anion infared chip, which can heal the bacteria of vagina, kill the virus, relax the body, brings the energy, keep away the exhausted feeling of period,refresh the cell , odor control, balance the PH value, use this functional chip , extra protection like from your lover.  
other chip like herbal , aloe vera , anion , bamboo charcoal , pepper mint , can be embossed too, every chip has its unique function.  
 Excellent Adhesive
Wide and Long adhesive on wings and back sheet keep the sanitary pads stay tightly and firmly on underwear, never worry about slipping away even doing vigorous activity.    
Individually Wrapped
Each sanitary pad is individually wrapped for purpose of hygiene and storage.Moreover ,colorful printed high quality wrappers are widely adoptedwhich brings a new visual enjoyments.So period boring?Not any more!  
Packaging & Shipping  
Different packing solution as you prefer:  
Zip Lock Bag
It makes the package of sanitary pads like an elegant purse. It can be re-sealed after opening the package. It is a perfect option to keep sanitary pads hygienic in washroom or woman's bag.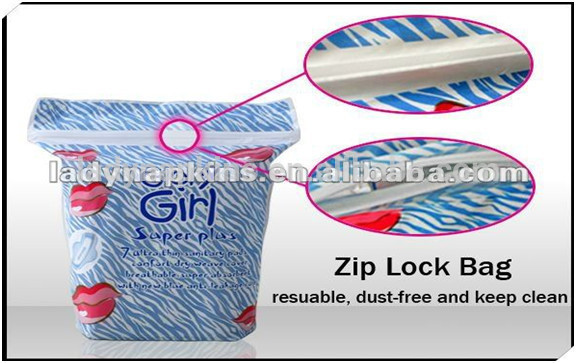 Aluminum Foil Bag
It's 100% safe packaging, shining silver foil inside the bag, and resealable open-sticker. This kind of packaging became more and more popular, it looks deluxe and solid, but not soft as PE bag.      
Paper Box
Fully strong preservation from 6 sides and 8 angles. Strong felling of stereo perception and the boxes makes the sanitary napkins more exquisite. Also it well followed the world trend to protect environment.

Our Services  Indemnity
We promise no recycle substances are used to our products, only 100% safe materials that meet European standard and environmentally. We are liable for any failure to supply Goods, and for any defect in the quality of Goods supplied, in accordance with the terms of contract.  
We have two brands GLORYGIRL & OUIOUI which are looking for global retail agents and distributors,
OEM orders are welcomed too,cooperate with us , you will derserve:  
1. fast delivery 
2. guarantee of products quality
3. good suggestion for marketing
4. new and innovated products for expanding the market
5.extra value such as design for packages.
6.good after sale service.
7.good products help you to get reputation from the market.  
Certification: SGS, ITS, EBO(SVHC), ISO9001, FDA   
Customer: Tesco. Shoprite. Walmart. Wastons,Walgreens, Woolworths  
Company Information    
Our company is thoughtful, caring people and the focus of helping people reflects this. In the past years  
We've paid lots of efforts in charity and social welfare. We opened a female care hot line for answering questions about female health. We frequently donate thousands of pads to charity or other organization and rural areas. We support children to go to school. We will keep going our charity to help anyone who needs.    
FAQ  FAQ
What's your advantage?
28 years experience of production of sanitary pads and panty liners.
Most advanced equipment
GMP, FDA certified
Strict control on all links of production
Diligent R&D
100% warranty, 100% refunded!
What is your lead time?
Within 30-45days after order placed.
What's your payment term?
We accept T/T, LC, D/P, D/A, Money Gram, Western Union and so on.
Free samples? 
Yes, JKD HYGIENE provides free samples to the clients.
What's the MOQ?
Standard MOQ is: 30000 bags/item, several items can be mixed in one container, we have solutions for asking small quantity.
How about the Private Label?
JKD is majority in OEM for 28 years, We provide very professional service during the whole process we fulfill customer's orders, We are not only having a big professional group of sales, raw material buyers, shipping specialists, QC and customer service who can offer a whole professional service, but also having a team of product and packaging designing. 
Any more charge for other brands?
No extra charge, send us your design; we will make the packages under your brand.
Can your accepted our designed products?
Yes, we have strong ability to make new designed products.
How do we control quality?
Strictly control the quality of raw material and prevent any possible defects by lab test before mass production
Constant ejection of seconds by our advanced automatic ejection device for all orders during mass production
Site monitoring of whole production during mass production
 Selective examination of finished products for all orders by QC and lab test before loading.
Always keep workshop and warehouse clean and hygiene at the appropriate temperature and humidity, always clean and disinfect workshop once every two hours.
Perfect loading after makes sure the empty container cleans without odor and rust. 
Feedback of our partners  
Our company import sanitary pads from JKD at the year 2004, and at first the price
seems very high not competitive and then would suppose to give up, but when I got their samples, I determined to do a test, and give them a small order for trying at the market.
And I'm shocked at the feedback from the consumer,as the high quality the products is very
poular, the with their products we earned profit and good reputation with our brand at
our markets.
                 ------Chris Morgan (Purchase manager, from UK, cooperate with us for 10 years) 
How to work with us?  
OEM
If you have your own brand and complete products' standards, we are willing to 
produce for you directly as your request.
 ODM
If you have your own brand, but lack of complete products' standards, we are able 
to arrange our R&D team to research and develop new products for you, provide 
several production solutions for your choice.
Agency or distributor of our brand   
If you don't have no idea of that which products is suitable for your market and your brand, you can act as our agent in our private label "OUIOUI or Glory Girl", which is concentrate in producing disposable hygiene products, we sincerely invite you to be our regional agent globally.
Brand Story  Please read our brand story (OUIOUI)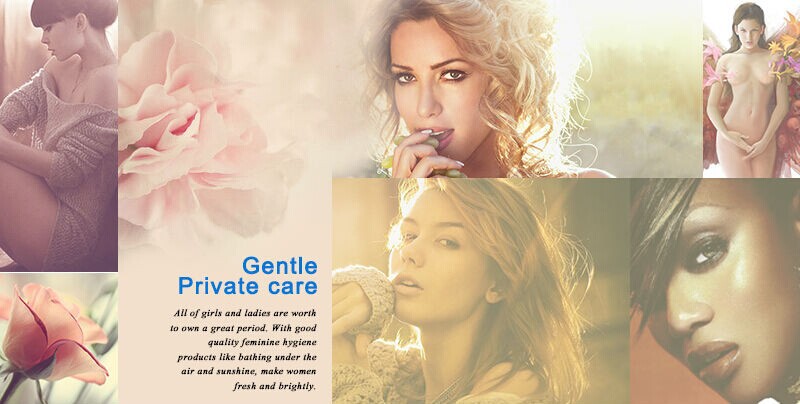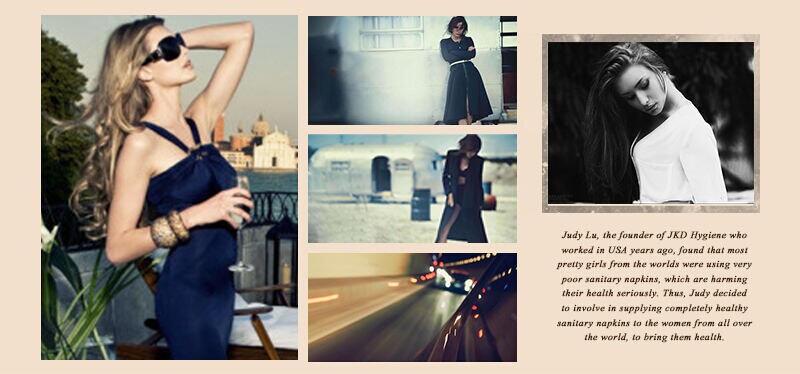 Nowadays, our products are exported to Europe, Southeast Asia, Africa and Australia and sales in big markets, brands and chain store.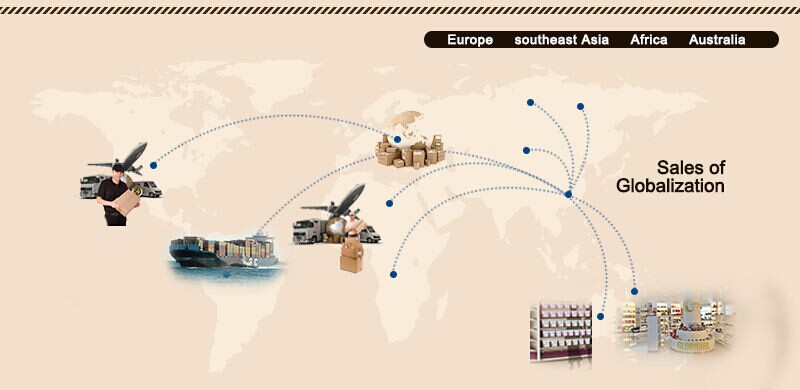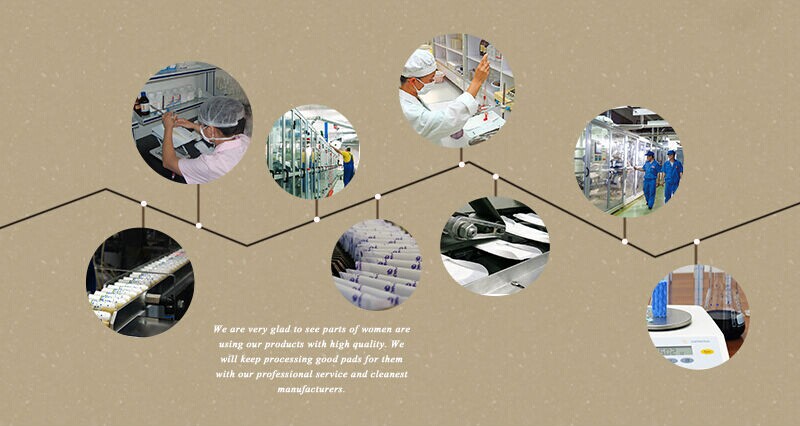 Groupes de Produits : Serviette hygiénique > Serviettes hygiéniques Anion